Costa Del Golf a must for property investors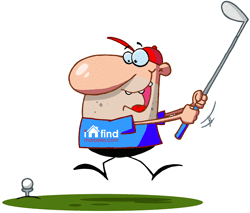 The Costa del Sol is considered to be a favourite destinations for golfers with plenty of luxurious golf courses in
stunning locations
next to the Mediterranean sea and not forgetting that the
sun shines almost 320 days
of the year.
Because of these factors you will find that the golf properties on the Costa del Sol are highly sought after. Buying a property on or near a golf course can be considered an incredible holiday home investment as they prove to be popular all year round with golfers due the attractive climate.
The courses dotted around the Costa Del Sol offer different levels of play enticing professionals and amateurs plus most offer lessons. The Cost Del Golf as many know it is situated to the west of Malaga and is an ideal location for golf enthusiasts with its close proximity to the Malaga airport, which has hundreds of short flights arriving every day from all across Europe.
There are 60 golf courses in total along the coast with reputations for both their luxury and professionalism. Some golf courses even have the prestige of hosting events such as Valderrama Golf, which in 1997 hosted the Ryder Cup.
These beautiful courses are not just golfing destinations, as many have amenities such as high-end shops, delicious restaurants, spas and direct on site access to their five star hotels. Quite a few of the courses on the coast are also just a short walk away from their beautiful seaside towns with stunning beaches.
Many golf courses also offer residences surrounding its landscape, with front line golf properties being a definite investment opportunity for budding entrepreneurs. They are often rented out and many of the private residences come with free memberships to the golf clubs to which they are affiliated. This along with their attractive rental yield on such properties make the golf properties on the Costa Del Golf a great investment along with having a lovely holiday home.
To receive our exclusive offers on our frontline golf properties please contact us