Malaga Airport sets new record!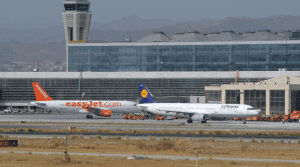 Malaga airport has set a new record with the number of passengers passing through its terminals in July of 2015 with an all time high of 1,705,187 passengers! This is the first time that these figures have exceeded 1.7 million in a single month.
This totally smashes the record held in the month of August 2014 when 1.68 million travelers passed through its terminals.
The 26th and the 31st of July were the two busiest days with a total of 443 landing and take-offs recorded and a total of 60,660 passengers.
The most popular destination that people were traveling to and from was London, followed by Manchester, Dublin, Barcelona, Brussels, Copenhagen, Paris, Amsterdam, Oslo and Stockholm.
Malaga airport has seen record numbers passing through its terminals since the beginning of 2015 with a total of 8,146,592 up until the end of July. This is a significant increase of 4.5 percent on the figures from last year.
With August being the busiest month of the year on the Cost Del Sol, we anticipate the record to be broken again come the end of this month.
This is very encouraging for both the economy and the housing market here as the UK buyers are flocking back to the region and snapping up all the best priced opportunities that are still available.  However these opportunities are fastly running out as the market is expected to increase by 20% come 2016 due to the supply not being able to keep up with the demand.
If you are from the UK and you are looking to buy property in Marbella or along the coast then with the attractive current discounts along with the fantastic exchange rates the time to buy is now. These prices will not be achieved again come 2016. For more information on whats left in the market contact us or search here