Record number of blue flags for the best beaches in Spain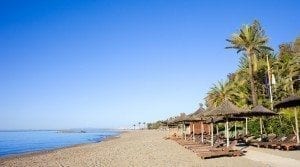 The best beaches in Spain have been awarded and hold a new record of blue flags which means we now have four more than last year. Spain has now been awarded 678 blue flags in total consisting of 101 for its Marinas and 577 for its beaches. Here in Andalucia we have 78 beaches and 17 marinas awarded out of this total.
Spain is the top ranking country for beaches that have been awarded blue flags by the Association of Environmental and Consumer Education (ADEAC) and World Trade Organization (WTO). In order for a blue flag there has to be a compliance of standards of hygiene, health, safety, accessibility for people with reduced mobility, information, lifeguard, and water quality.
With the increase in blue flags it indicates a healthy state in the tourism sector and which is also a contributing factor to the increase in number of tourists expected this summer. The average expenditure is also set to rise and the employment linked to tourism will grow around 3% in this third quarter.
Some of the awarded blue flag beaches in our area are Casablanca beach in Marbella, El Cable – Pinillo beach in Marbella, El faro located in the centre of Marbella alongside the marina and El Cristo beach in Estepona.
The Blue flag Marinas on the Costa De Sol are Puerto Deportivo de La Duquesa, Puerto Deportivo de Estepona and Puerto Deportivo de Marbella.